Restaurants & Bars
At Royal Solaris Cancun, you'll experience the finest Mexican and international cuisine, created by our talented chefs and available in our signature restaurants from 6:30 a.m. to 10:00 p.m. daily. Enjoy snacks almost 24-hours at locations listed below. You're free to eat and drink as much as you like. No waiting for the check, no tips, no hassles, just great food and friendly service.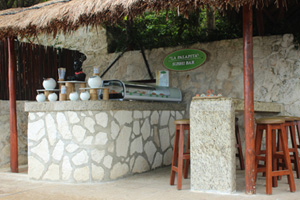 "La Palapita" Sushi Bar
Located in the Royal pool area "La Palapita Sushi Bar" offers different kind of rolls, our menu are made with a variety of fresh ingredients that will please you. Open daily from 12:00 to 6:00 pm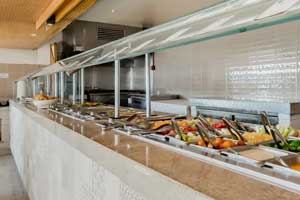 Rodizio dinner
Twice a week from 6 PM to 10 PM (Seatings: 6 PM, 7 PM, 8 PM  and  9 PM). Reservation is required in Rosmarinus restaurant. Dress code: Casual.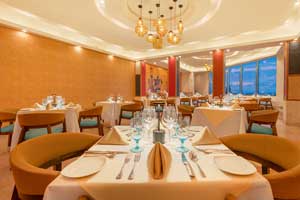 Marco Polo
Marco Polo, the perfect gourmet place to enjoy an exquisite and unforgettable dinner. Find yourself our magnificent menus during the week, not forgetting the fantasy desserts.
Menu: International à la carte. | Open from 6:00 p.m. to 10:00 p.m. | Dress code: Formal attire (no shorts, swimming suits or flip-flops). | Reservation: required. Make your reservation in Marco Polo  from 9:00 a.m. to 2:00 p.m. where our staff will give you a ticket. | Non-Smoking Policy.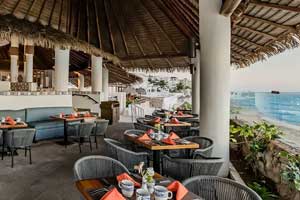 Rosmarinus
Open for lunch with traditional and very well set buffets, and dinner with our extraordinary and wide Mexican cuisine à la carte.
Food: International buffet style.
Open from 12:00 p.m. to 4:00 p.m.   6:00 p.m. - 10:00 p.m.
Dress Code: informal (shirts are required for service, must wear shoes or sandals, swimming suits are not allowed).
No reservations needed.
Outside Smoking Area.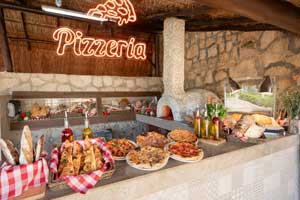 Pizzalísima
Enjoy delicious homemade pizzas including vegetarian and classic flavors. Menu is available or creates your own pizza with our assorted toppings.
Opens daily from 12 pm to 6 pm.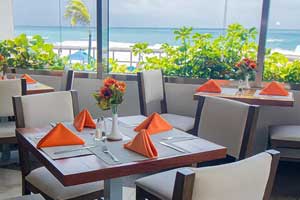 Las Fuentes
Beautiful and well located restaurant by the hotel lobby area. During breakfast enjoy a wide variety of Fresh fruit, juices, regional dishes, Antojitos Mexicanos: "little Mexican whims", etc., the perfect place to prepare your favorite omelet. For dinner, we will enjoy the different delicious buffets: Italian, Oriental, the International Gala; with its traditional cheese menu, and the unique Mexican Buffet. 'Las Fuentes' offers dinner buffet style every night.
Food: American buffet style. | Dress Code: informal (shirts are required for service, must wear shoes or sandals, swimming suits are not allowed). | No reservations needed. | Non-Smoking Policy.
SCHEDULE
Buffet Breakfast
From 6:30 to 11:00 am.
Continental Breakfast
From 11:00 to 11:30 am.
Room service is available on specific schedules ($).

Dinner
From 6:00 to 10:00 pm.
Bar & snack services
Our snacks will tantalize your taste with delicious traditional "guacamole", hamburgers, Mexican "nachos", nuggets, hot dogs, chicken wings and more.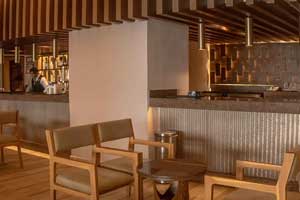 Lobby Bar
The lobby bar at Royal Solaris Cancun is the ideal place to make new friends and enjoy live music from Monday to Saturday. In addition, the entertainment team will make you spend unforgettable moments with their performance and hilarious activities that include the 80's Disco Party and Karaoke.
Open form 3pm - 11pm daily